Our Services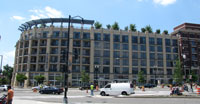 ORGA serves clients within a targeted geographic area (Maryland, District of Columbia, Virginia, Delaware, and Pennsylvania). The firm has served special project needs in various region of the country and internationally. Focal areas of services include:
Traffic Operations and Safety Studies and Plans
Transportation for Land Planning & Zoning
Traffic Impact Studies
Transportation for Urban/Economic Revitalization
Neighborhood Traffic Impacts & Mitigation Plans
Expert Witness Testimony
Parking Surveys, Studies, Designs
Transportation Management Studies and Plans
Feasibility Studies
Field Surveys & Data Collection
ORGA prides itself with understanding our Client's needs and ensuing our professional integrity.